Back to top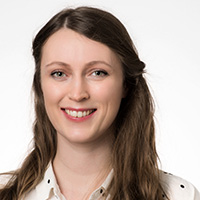 Fax:
+49 30 889140 - 8565
Museum für Naturkunde
Leibniz-Institut für Evolutions- und Biodiversitätsforschung
Invalidenstraße 43
10115 Berlin
Deutschland
Tasks
Post-doctoral researcher, DAAD-Leibniz Fellowship
Research
Structure, function and evolution of eyes and photoreceptors
Nervous system architecture and evolution
Visual ecology and behaviour
Molluscan evolution
Publications
Sigwart JD, Sumner-Rooney LH, Dickey J, Carey N. 2016. The scaphopod foot is ventral: more anatomical evidence from Rhabdus rectius (Carpenter, 1864) (Dentaliida: Rhabdidae). Molluscan Research. DOI: 10.1080/02699931.2011.628301
Sumner-Rooney LH, Sigwart JD, McAfee J, Smith L, Williams ST. 2016. Repeated eye reduction events show contrasting morphological features in a family of marine snails. Evolution. 70, 10: 2268-2295.
Sigwart JD, Sumner-Rooney LH. 2015. Mollusca: Caudofoveata, Monoplacophora, Polyplacophora, Scaphopoda, Solenogastres. In: Structure and Evolution of Invertebrate Nervous Systems. Eds. Schmidt-Rhaesa A, Harzsch S, Purschke G . Oxford University Press.
Sumner-Rooney LH, Schrödl M, Lodde-Bensch E, Lindberg DR, Heß M, Brennan GP, Sigwart JD. 2015. A neurophylogenetic approach provides new insight to the evolution of Scaphopoda. Evolution and Development. 17, 6: 337-346.
Sumner-Rooney LH, Sigwart JD. 2015. Is the Schwabe organ a retained larval eye? Anatomical and behavioural studies of a novel sense organ in Leptochiton asellus (Mollusca, Polyplacophora) indicates links to larval photoreceptors. PLoS ONE. 10:9. e0137119.
Sigwart JD, Sumner-Rooney LH, Schwabe E, Heß M, Brennan GP, Schrödl M. 2014. A novel sensory organ in 'primitive' molluscs (Polyplacophora: Lepidopleurida) and its context in the nervous system of chitons. Frontiers in Zoology. 11:7.
Sumner-Rooney LH, Murray JA, Cain SD, Sigwart JD. 2014. Do chitons have a compass? Evidence for magnetic sensitivity in Polyplacophora. Journal of Natural History. 48: 3033-3045.
Sumner-Rooney LH, Cain SD, Brennan GP, Sigwart JD. 2014. A test for mucus removal in the chiton Lepidochitona cinerea (Linneaus, 1767) (Polyplacophora: Chitonida: Ischnochitonidae). The Veliger. 51: 261-264.