The Fossil Mammal Collection currently contains approximately 80,000 macroscopic items and about 1 million small mammal remains. These include 41 types and over 1,500 originals. The special collection of hominids comprises approximately 500 items with over 20 originals.
The Hominid Collection is a small collection, mainly used for teaching purposes. It predominantly contains casts of skulls, palaeolithic tools and an original tooth of Australopithecus afarensis from the southern Serengeti (Tanzania). Besides the considerable number of collected specimens from East Africa, there is a large number of Pleistocene mammals collected during Margarethe L. Selenka's (1860-1922) expedition to Trinil on Java, where the famous first Homo erectus was found. There are also many finds of fossil mammals from other countries such as China, the U.S.A., Egypt, Greece, the Netherlands and several countries of South America.
The Fossil Mammal Collection is a dry collection arranged in systematic order. Collection materials are diverse and include fossilised bones, subfossil bones, ivory, remains of fur, casts, models, field notes and maps. 
Digitisation
Our in-house Access database holds over 45,000 items, mostly macroscopic items. The Hominid sub-collection has been completely digitised.
Highlights
Remains of giant sloths
Remains of Pleistocenic giant sloths from South America are among the most extraordinary parts of the collection. Some of them were collected by naturalist Friedrich Sellow (1789 1831). They include preserved skin remains, skin ossifications, remains of fur, regurgitated pellets and excrement from various sites in Chile, Uruguay and Brazil. They are part of the Palaeontological Vertebrate Collection. Giant sloths went extinct approximately 10,000 years ago. Climate change and hunting by humans are thought to have caused the disappearance of these impressive animals.
Lower jaw of Sagheticus osiris
The lower jaw of the early whale Saghacetus osiris is completely preserved. It originates from 35 million year-old Upper Eocene strata near the famous Fajum Oasis, Egypt. The front section of the jaw was first found in isolation in 1884 by Africa explorer Georg A. Schweinfurth (1836-1925), who thought it belonged to a member of the pig family or a tapir. Ten years later, more thorough examination by Wilhelm B. Dames (1843-1898) revealed a connection between this part and the back section of the same jaw. The very different teeth patterns in both sections are typical for early whales.
Dent of Australopithecus afarensis
The original tooth of Australopithecus afarensis from the southern Serengeti, Tanzania, is a very special item, brought back to Berlin in the 1930s from the expedition led by Ludwig Kohl-Larsen (1884-1969). The tooth spent 45 years in a drawer of the Museum's collection before it was identified by American palaeontologist Tim White as a left lower second incisor. Its preservation state and colouring is in line with other finds of fossil primates at the Laetoli site on the Garusi river near the north-eastern corner of Lake Easi. It is therefore thought to be 3.75 million years old.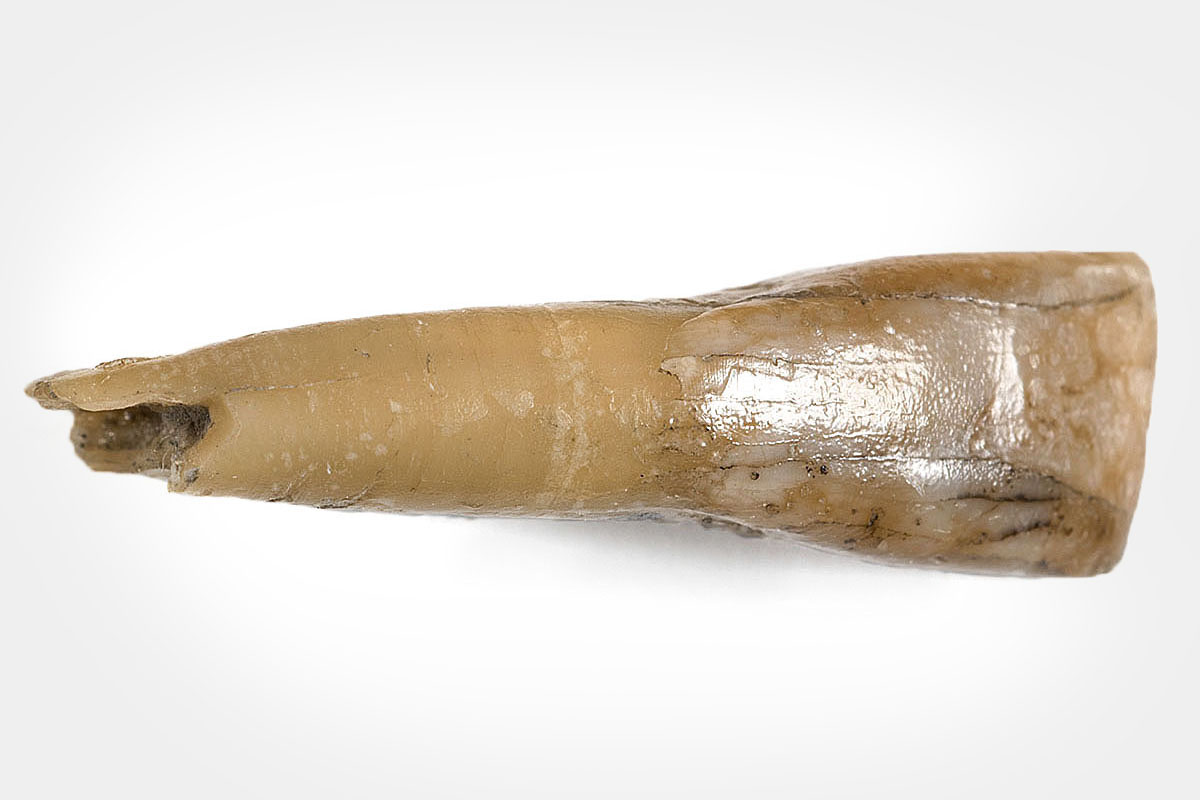 Research
The large amount of material in some parts of the collection make it particularly interesting for comparative ontogenetic studies. Accordingly, research covers a wide field including population structures, phylogeny and climate development.
The skin and fur remains of the extinct South American sloths are particularly sought-after, as they could provide unique genetic material from a relatively recent period 8,000 to 10,000 years ago.
Researchers may access the collection by contacting Curator or the Collection Management.
Library
There is no library directly attached to the collection. A large proportion of literature referring to the collection has been integrated into the palaeontological library of the Museum.