Back to top
Prof. Johannes Vogel, Ph.D.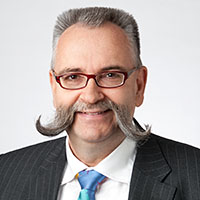 Fax:
+49 30 889140 - 8561
Museum für Naturkunde
Leibniz-Institut für Evolutions- und Biodiversitätsforschung
Invalidenstraße 43
10115 Berlin
Deutschland
Tasks
Leadership of the Museum für Naturkunde Berlin as its Director General
Representation in national and international fora
Professor of Biodiversity and Public Science, Humboldt University, Berlin
Research
Research interests:
Role of museums in science and society
Public engagement with science
National and international science policy
evolution & biodiversity research
Research projects:
2020 EU Commission & BMBF "A Citizen Science Decade 2020-2030",
conference & festival supporting Germany's EU Council Presidency.
2017 – 2021 DFG. Erschließung der Brandenburgisch-Preußischen Kunstkammer.
Humboldt Universität (HU), Stiftung Preußischer Kulturbesitz (SPK), MfN, D.
2017 – 2021 Mercator Stiftung, The Open Science Policy Platform and its impact on the
development of Open Science in Europe. D.
Publications (Selection)
Andreozzi, S., Bertero, M., Deketelaere, K., Ayris, P., Edmond, J., Epure, M., Garfinkel, M., Hirvikoski,T., Hormia Poutanen, K., Kleiner, M., Kuster,S., Koch, W., Kristiansen, E., Leonelli, S., Lossau, N., Luyben, K., Mabe, M., Carpenter, P., MacCallum, C.J., Peters, P., Manola, N., Méndez Rodríguez, E., Rossel, C., Scott, M., Cotter, S., Sundgren, J.-E., Vignoli, M., Vogel, J., Weißpflug, M., Wood, J. (2018). OSPP-REC. Open Science Policy Platform Recommendations. European Union, Brussels. DOI: http://doi.org/10.2777/958647
Liu, H.M., Russell, S.R., Vogel, J., Schneider, H. (2018). Inferring the potential of plastid DNA-based identification of derived ferns: a case study on the Asplenium trichomanes aggregate in Europe. Plant Systematics and Evolution, 304 (8), 1009-1022.
Hecker, S., Bonney, R., ,Haklay,M., Hölker, F., Hofer, H., Goebel, C., Gold, M., Makuch, Z., Ponti, M., Richter, A., Robinson, L., Iglesias, J., Owen, R., Peltola, T., Sforzi, A., Shirk, J., Vogel, J., Vohland, K., Witt, T., Bonn, A. (2018). Innovation in Citizen Science – Perspectives on Science-Policy Advances . Citizen Science: Theory and Practice . 3 ( 1 ) , p .1-14 . DOI: http://doi.org/10.5334/cstp.114
Hecker, S., Haklay, M., Bowser, A., Makuch, Z., Vogel, J. & Bonn, A. (eds.) (2018). Citizen Science – Innovation in Open Science, Society and Policy. UCL Press, London. 580pp. DOI: https://doi.org/10.14324/111.9781787352339
Neumann, D., Borisenko, A.V., Coddington, J.A., Häuser, C.L., Butler, C.R., Casino, A. Vogel, J.C., Haszprunar, G., Giere, P. (2017). Global biodiversity research tied up by juridical interpretations of access and benefit sharing. Organisms Diversity & Evolution 18: 1-12.
DOI: http://doi.org/10.1007/s13127-017-0347-1

November 2019: H-factor Google Scholar: 26
See: https://scholar.google.de/citations?user=jyBUxmgAAAAJ&hl=de