This article was first published in our journal für Natur (issue 06/2022).
Astrid Faber is convinced that nature concerns us all. The biologist is committed to ensure that as many people as possible benefit from the knowledge and collection of the Museum für Naturkunde Berlin. She reaches with her team around 60,000 children and adults. 
Discover nature in the nawi.club
The discovery of nature is in full activity on this Tuesday afternoon. Ten children are walking between microscopy tables in the Museum für Naturkunde Berlin. They are placing crab shells, corals, hairy spiders and delicate yellow petals under lenses and taking turns looking through eyepieces as making plans for their digital "research projects". A group of girls are planning an animated film in which they want to recreate the growth of a flower with modelling clay. They also want their plasticine flower to produce seeds and create new life. In the meantime, a couple of boys are working on a digital rally in which they discover exciting objects in the exhibition using the app "Actionbound": a donkey, for example, a cross between a zebra and a donkey, or the extinct zebra subspecies "Quagga". These children are students from the nearby Gustav-Falke primary school in Wedding.
They are participating in the nawi.club of the Museum für Naturkunde Berlin for one school term. Which is a research club for schoolchildren funded by the Federal Ministry of Education and Research as part of the action programme "Catching up with Corona". "We want to provide them with enjoyable experiences after the long corona period and give them a space where they can try things out for themselves," says Astrid Faber, who leads the Education and Outreach department at the Museum für Naturkunde Berlin. She is responsible for ensuring that as many people as possible benefit from the natural history knowledge in the museum's collection. She speaks with deliberation and the conviction that she is taking on an important social task. "Especially in times of scepticism about science, our goal is to promote a better understanding of science and an awareness of the protection of biodiversity," she says. "To do so, we start with the youngest generation, who are often interested in everything that has to do with nature."
The idea came out of her own childhood experience. When she was a young girl, she used to walk through the forest on the outskirts of Bonn which is a nature reserve with an extinct volcano overlooking the Rhine. She recalls that the nature inspires our imagination,"Later on, she took a great interest in the whole thing – how humans live with nature and what grand theories can be derived from the smallest observations. Before she works for the Museum für Naturkunde Berlin, she studied biology and psychology. "I started as an intern in museum education, and since then it hasn't let me go," she says. Years of working as a museum guide and in public relations followed. She wrote an exhibition guide for children. In 2011 she took over the education and outreach department. Since then, she is coordinating all educational activities of the Museum für Naturkunde Berlin and working with a team of ten employees and up to 30 guides.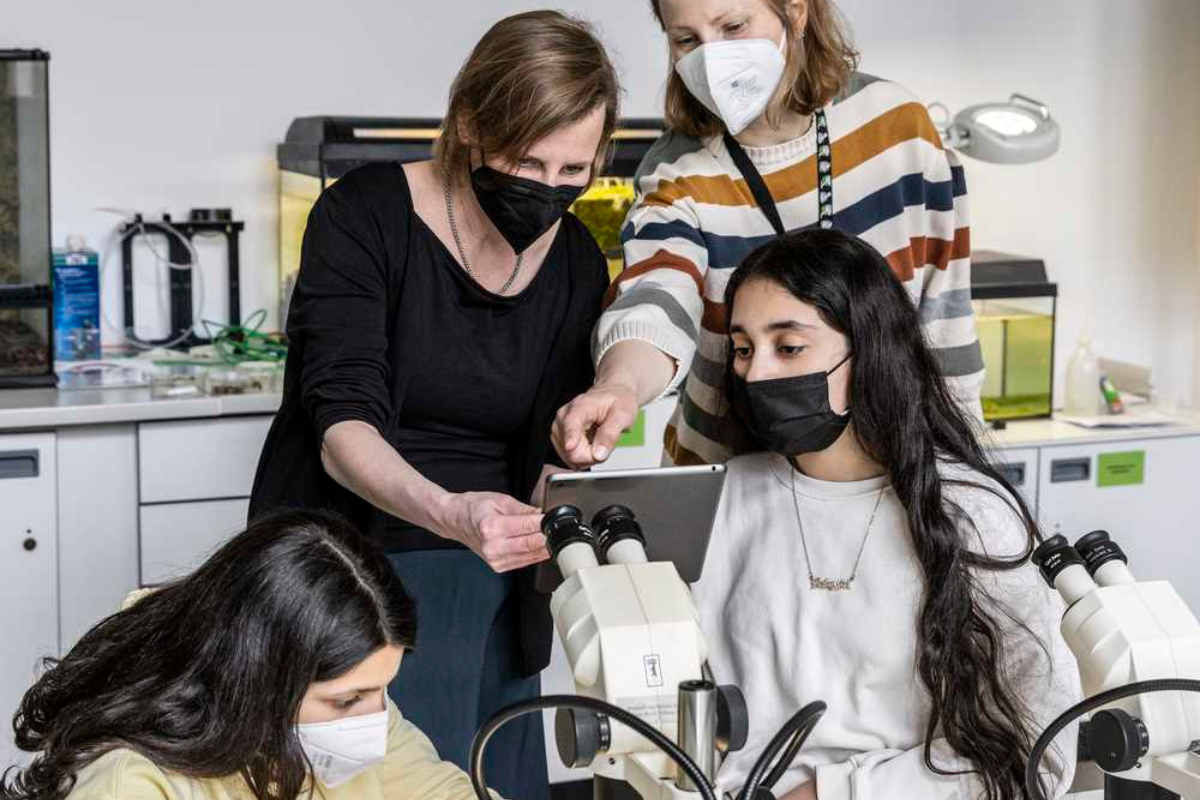 Educational offers for all ages
Faber likes to devote herself to good educational work. She makes contacts with schools, day-care centres, universities, research institutes and adult education centres. She talks to politicians about the importance of extracurricular natural history education and raises funds to expand the natural history museum's offerings. "We have developed around 40 formats that we can offer for all age groups, from microscopy courses to thematic guided tours in the museum and in nature to workshops on human evolution," says Faber. In the coming years, the main focus will be on environmental education in urban nature. "We realize that many children haven´t any experience with nature and have only limited knowledge of species. This is something we want to counteract." The sixth and seventh graders of the nawi.club also go on excursions to parks and cemeteries. There is a similar program for Kindergartens. Children learn about animal sounds, make animal masks, build an insect hotel and hike through the city's nature. "They learn to lose their fear of animals and insects, in spite of the fact that they may never have been to the forest with their parents," says Faber. "Many of them are very proud once they have to pick up a bug." This Cooperation exists between the museum and 19 Kindergartens in Berlin.
Faber organizes regular training sessions with the museum's experts to keep her staff up to date with latest science data material. The paleontologist Daniela Schwarz reports on the latest findings from dinosaur research and answers all the questions the guides have for her. "Knowledge is constantly in flux," says Faber. "And that's how we want to pass it on." If you ask Astrid Faber what is most important in her work, she refers that an engagement with everyone is most important. "I also want to reach groups that we don't see in the museum," she says. "If they don't come to us, I try to find out why that is and how I can reach them."
She provides tours for people with dementia or visual impairments, drawing classes for refugee children and educational programs for their families. Astrid Faber and her team strive for a comprehensive democratization of educational work and explore new ways of communicating knowledge about nature. For the mediator Faber, the Museum für Naturkunde Berlin is also a local educational institution that has an impact on the city.The future plans for the museum's renovation include a turn of the museum into a meeting place for the neighborhood. A place where urban society encounters nature in a positive way.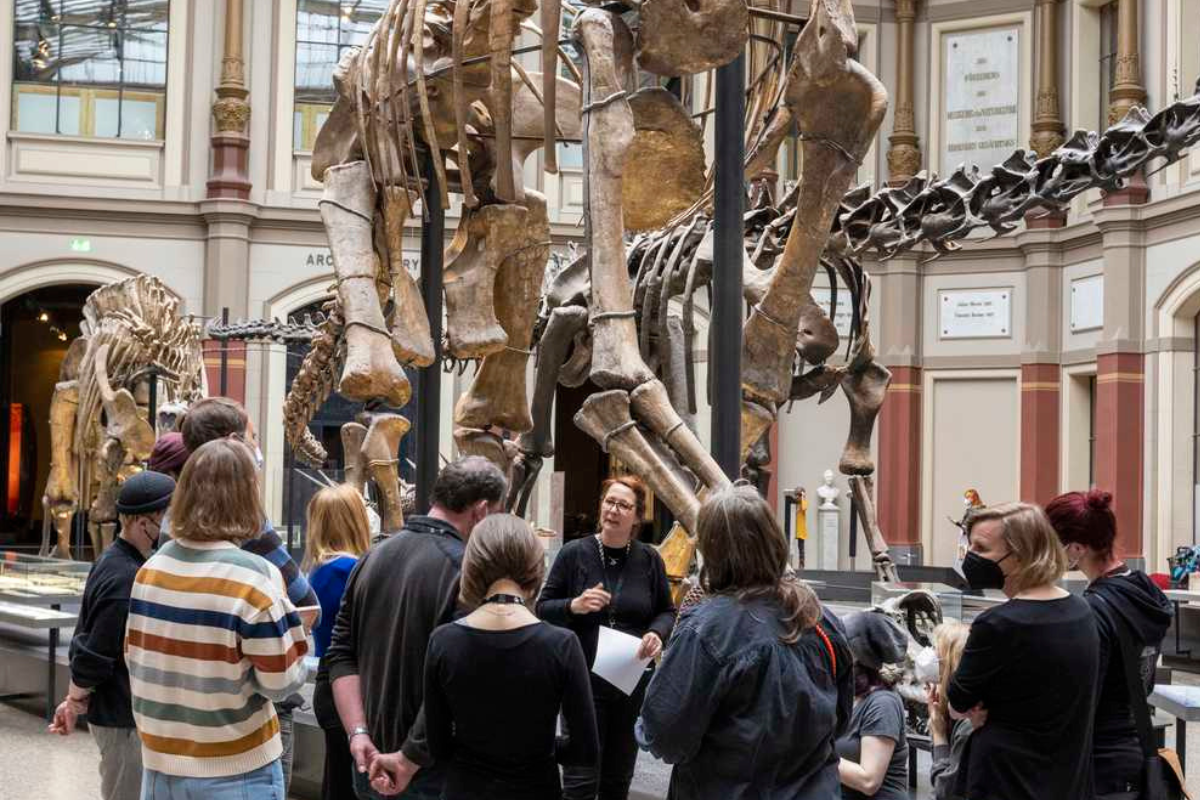 In dialog with society
In times of species extinction and climate change, educational work must also face uncomfortable truths. Especially Children and young people are very concerned about the state of the world. They question a lot about the extinction of species or about plastic in the sea. The answers to these questions can be scientific – or artistic. Young people at the Hagenbeck School in Weißensee are a example of this: they have taken extinct animals from the exhibition at the Natural History Museum in Berlin and, together with a poet, written poems about them, about the pouched wolf, for example. One of them begins with the verse: "I am disappointed. You humans, you bastards! Destroy my island! Have mercy!" And ends with the words, "But the glory I once had is no more."
Faber doesn't believe education can solve global problems – "that's what politics is for". But it can make a contribution and it makes a big difference when people start to change their lifestyle or work on their doorstep to preserve green spaces or make gardens insect-friendly. "I believe that the knowledge and positive experiences with nature that we give people can make them behave differently or even nature."
Text: Mirco Lomoth
Photos: Pablo Castagnola