This article was first published in our journal For Nature (issue 5/2021).
Citizen science projects are fun. But citizen scientists also face legal questions: Am I insured if I injure myself while searching for wild bees? What about data protection when I map villages? A guide provides clarification.
I meet Linda Freyberg in one of the courtyards of the Museum für Naturkunde Berlin. The place is teeming with urban nature: In summer, a family of foxes lived here, chestnuts fall every minute, bees search for the last blossoms of autumn. A place as if made for citizen scientists to be involved in their projects, for example on urban nature. The buergerschaffenwissen.de platform, which was awarded the UN World Summit Award-Germany 2021 in October 2021, features numerous projects for citizen scientists to get involved in: Research on stardust, transcription of old documents, mosquito atlas, light pollution, mapping villages. The topics are as diverse as the people who are involved in them.
Linda Freyberg studied library and information science and earned her PhD in cultural studies. She has always been interested in interdisciplinary topics, especially science communication and open science. Freyberg found her way to the Museum für Naturkunde Berlin through the topic of Open Science, after she helped develop the Open Access strategy for the state of Brandenburg. Freyberg has the "Guide to Legal Issues in Citizen Science Projects" with her. That sounds pretty boring at first.
Citizen Science bridges the gap between science and society
Citizen Science offers citizens the opportunity to participate in the creation of new knowledge by helping to shape current research questions. There are different degrees of involvement: many citizen scientists provide photos and data, others fill their free time with volunteering and scan insects at a museum. There are a number of snares in getting involved – and that brings us back to the guide to legal issues in citizen science projects. It's clear from the first glance that this is not only extremely relevant, but also really interesting.
Funded by the German Federal Ministry of Education and Research with a grant of just under one year, the guide was published in December 2020. At that time, the most extensive and diverse citizen science projects had already been underway for a long time. At a workshop, it became clear that there are legal areas relevant to Citizen Science, great uncertainty in the community and a very great need for advice. In most cases, the projects are initiated by universities and research institutions, and in some cases there are legal departments – but no legal advice. Many citizen researchers and project leaders need just this and quickly: individual advice on their specific case. Here, the "cases" can be divided into three rough areas: Insurance coverage, data protection, copyright. The guide, which is largely based on the opinions of legal experts, is divided into precisely these chapters.
Am I insured if, as a citizen scientist, I sprain my ankle while looking for the bee here on the farm and the borrowed magnifying glass falls down and breaks? If I do this voluntarily, says Linda Freyberg, I'm covered by my own insurance. But if I get the order to observe the insects at exactly this spot at 9 a.m., then it has the character of an order and the legal situation becomes more complicated. The guide presents these different models very clearly in its graphics, so that everyone can find themselves in one form or another. Models of action are presented, as is the question of who is liable in the event of damage.
Now where to put the collected data? Many projects use smartphone apps where you can upload photo and audio files. The Naturblick app developed at the Museum für Naturkunde Berlin, which enabled the museum-based citizen science project Nightingale Research Case to collect data, is a showcase example of data protection: it contains a detailed consent form and information for users.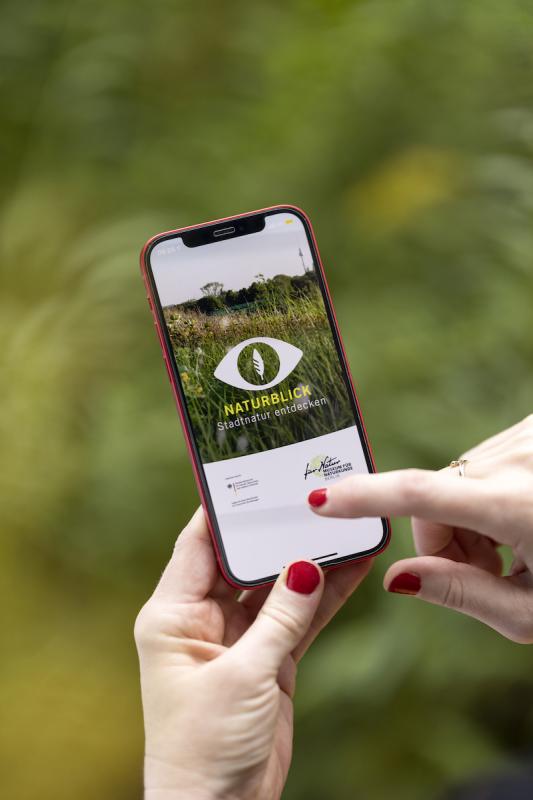 The "Land Inventory" project of the Thünen Institute for Regional Development (Thünen-Institut für Regionalentwicklung e. V.) is about mapping villages in Germany – where are there stores, pubs, houses in the village, what animals live there and much more. Here, the question of data protection arises. "The data was recorded and stored in encrypted form and anonymously, but since everyone in the village knows everyone else, data protection conflicts can quickly arise. On the other hand, the villages wanted to become more visible in the digital space, for example, to attract more guests," says Freyberg. The guide now shows which principles need to be observed when processing data that needs to be protected and which personal rights need to be observed in addition to data protection.
Do the names of the photographers have to be mentioned when photos are uploaded in the projects? Are researchers allowed to use images from citizen science in publications? And how is the commitment appropriately rewarded – by naming all contributors, for example in a scientific publication? These are some of the questions addressed in the chapter on copyright.
The guide breaks down barriers and builds legal certainty. Since the questions will not run out and the legal situation can also change, Freyberg will now transform the guide into an open dynamic document to ensure community participation. But this is just the beginning. There are plans to set up a competence center for Citizen Science at the Museum für Naturkunde Berlin, where Open Science will become a cornerstone and legal issues will also be considered.
Text: Gesine Steiner
Photos: Pablo Castagnola