Press release,
16-02-2023
For the first time, a team of researchers from Berlin is reconstructing the contents of 40 unopened bamboo corsets and six crates from the Tendaguru expeditions (1909 – 1913) using a non-destructive imaging technique (Computed Tomography). The data is relevant to paleontological research and conservation, but also particularly with respect to the colonial context of the material.
Between 1909 and 1913, the Museum für Naturkunde Berlin organized and financed the German Tendaguru Expedition (GTE) to southern Tanzania, at that time still the German colony of Deutsch-Ostafrika. With the participation of more than 500 local African excavation workers, a large number of porters, and two Berlin scientists, a total of more than 230 tons of fossil dinosaur material was taken to Berlin.
The dinosaur material originating from Tendaguru proved to be so rich and spectacular that the site remains one of the most important dinosaur localities in the world today. Of the dinosaur material from Tendaguru, 40 original packed and unopened bamboo corsets and six wooden crates with unprepared bones are still in the vertebrate collection of the MfN – exact contents unknown so far. This work is part of a large interdisciplinary scientific program in which the Museum für Naturkunde Berlin consistently deals with its colonial past.
Using their high-quality medical CT scanners, colleagues from IZW and Charité now helped to analyze the contents of the shipping containers non-destructively. "It was very exciting for all of us to finally know exactly what was inside the bamboo corsets without having to open them right away," says Daniela Schwarz, head of the study. "Until now, there was a lot of uncertainty about how to handle this material, because physical preparation really takes a lot of time, and you also don't want to destroy historical documents of the era."
The virtual preparation revealed many individual bones from the small gazelle dinosaur Dysalotosaurus lettowvorbecki, but also some pieces of the spiked dinosaur Kentrosaurus and of sauropods. In addition, this method allowed for accurate documentation of already familiar excavation techniques: embedding bones in clay, collecting these many small vertebral bones, collecting small bones in tin cans in the field, and carrying whole pieces of rock in specially made bamboo corsets stuffed with savanna grass.
All of this work was done by local workers employed during the GTE, and the filled corsets were then carried to the coast during several days of foot marches by columns of porters. "Two aspects were particularly important to me in the virtual exploitation of this material," explains Schwarz: "on the one hand, we want to make the fossil material from Tendaguru virtually available to everyone in perspective, and on the other hand, it was important to be able to define priorities for the preparation and at the same time decide what should be preserved in its original state as a valuable contemporary testimony of this historic expedition under colonial conditions."
The work shows that it is possible to combine the two. The computed tomographic data are now available for download in the publication for all interested persons (https://doi.org/10.7479/d1pq-2g96), and at the same time a prioritization list for the paleontological preparation of this material could be provided.
Publication
Description of content of unopened bamboo corsets and crates from Quarry Ig/WJ of the Tendaguru locality (Late Jurassic, Tanzania, East Africa) as revealed by medical CT data and the potential of this data under paleontological and historical aspects, Palaeontologia Electronica, Article number: 26.1.a3, https://doi.org/10.26879/1231
Authors
Daniela Schwarz, Museum für Naturkunde Berlin, Leibniz Institute for Evolutionary and Biodiversity Research
Guido Fritsch, Leibniz Institute for Zoo and Wildlife Research Berlin
Ahi Sema Issever, Charité Universitätsmedizin Berlin
Thomas Hildebrandt, Leibniz Institute for Zoo and Wildlife Research Berlin
Further information
Josef Felix Pompeckj named the dinosaur species Dysalotosaurus lettowvorbecki, which he scientifically described in 1919. In taxonomy, these designations are adhered to, knowing full well that this name has been erased in many places as part of a critical reappraisal of Germany's colonial past.
The Museum für Naturkunde Berlin consistently deals with its colonial past. 
Press pictures
Image 1: Virtual reconstruction of a bamboo corset with loose dinosaur bones and fossil-filled tin cans.
Image 2: Virtual reconstruction of bones of Dysalotosaurus from one of the bamboo corsets.
Image 3: Accumulation of loose vertebral bones in one of the transport boxes.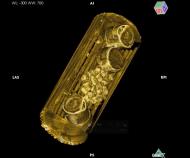 1. Virtuelle Rekonstruktion Dinosaurierknochen und fossilgefüllten Konservendosen
@ Daniela Schwarz, MfN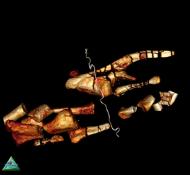 2. Virtuelle Rekonstruktion von Knochen von Dysalotosaurus aus einer der Bambustrommeln
@ Daniela Schwarz, MfN
Keywords