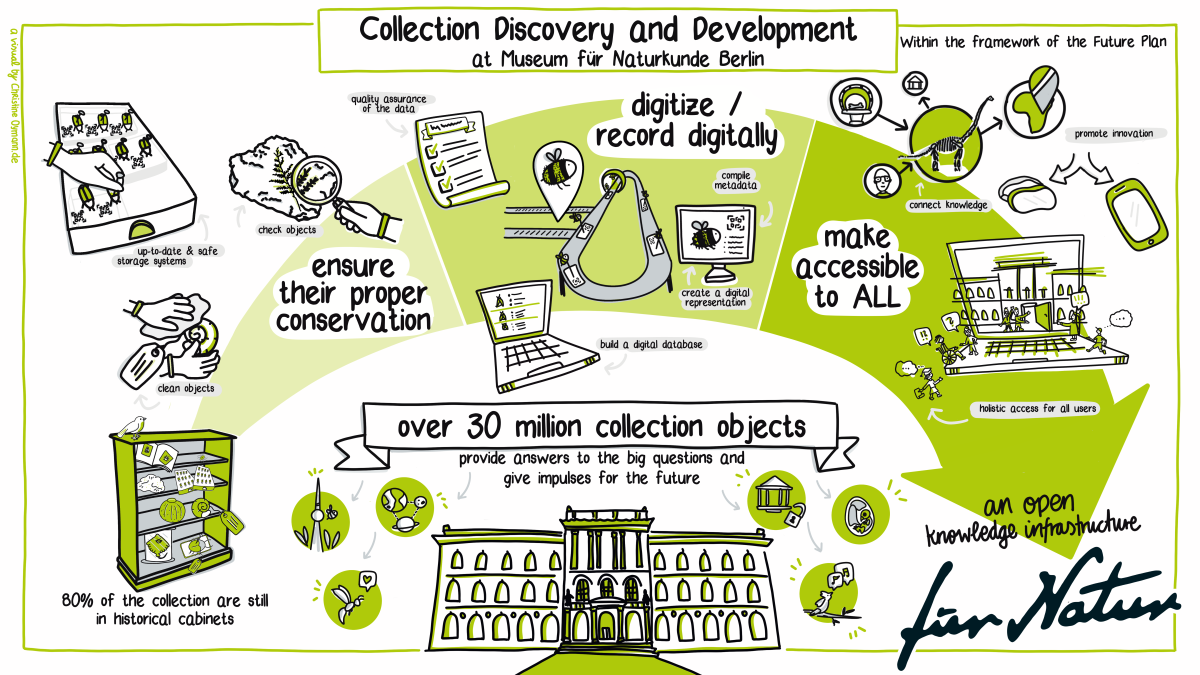 Do you need DNA data for your research project on flesh flies in Argentina? Are you looking for dolphin field recordings for your virtual reality installation? Or do you want to know the species of the shell that you recently found on the beach?
You may find what you're looking for in our museum's collection. The Museum für Naturkunde Berlin is home to 30 million artifacts, each containing invaluable knowledge. We invite you to use this knowledge to create a better and more sustainable world. We firmly believe that a better world is only achievable if we work together - in dialog and cooperation with you. That's why we see it as our mission to open up the collection and make it fit for the future.
Beyond the scientific community, we want to make the collection accessible to everyone - for business, education, art, politics, and other interests. Our goal is for institutes, initiatives, and people from different cultures and backgrounds to be able to access the collection, ask questions, get answers, and develop new ideas.
But how can we achieve this comprehensive openness? In the next ten years and as part of our Future Plan, we will digitally index and digitize every artifact in the Museum für Naturkunde's collection. It's a mammoth undertaking because the collection contains millions of artifacts, from digger wasps and travelogs to elephant skulls and dinosaur bones. Exciting times are coming for our museum. But we won't be leaving you in the dark. Instead, we invite you to look at the research collection and co-creations, to ask questions and understand our work.
For example, since October 2021, visitors to the digitize! special exhibition can follow live as we rearrange and digitally record our pinned insect specimens. We want to get people excited about nature, to encourage them to participate, think with us, and engage in dialog together.
You can find out exactly what we're doing in the Collection Discovery and Development project here.