Back to top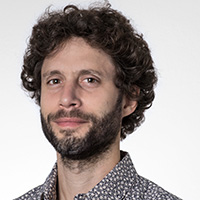 Fax:
+49 30 889140 - 8565
Museum für Naturkunde
Leibniz-Institut für Evolutions- und Biodiversitätsforschung
Invalidenstraße 43
10115 Berlin
Deutschland
Research
Neogene mammalian evolution, especially the fossil record of Bovidae
Evolutionary history of the Arabian Peninsula
African biogeography and hominid paleoenvironments
Morphological-Molecular approaches to phylogeny
Director of the Baynunah Paleontology Project (with Andrew Hill of Yale University): investigating a wide diversity of plant and animal fossils from ca.7 million-year-old river sediments in the United Arab Emirates.
Specialist on fossil Bovidae: member of the Middle Awash Project and the Omo Group Research Expedition, working in Ethiopia on the evolution of hominids and their environments.
Phylogeny of Bovidae: combining paleontological (morphological) and neontological (genomic) approaches
Publications
(Selection)
Bibi, F., A. Hill, M. Beech and W. Yasin (2013). Late Miocene fossils from the Baynunah Formation, United Arab Emirates: Summary of a decade of new work. Fossil Mammals of Asia: Neogene Biostratigraphy and Chronology. X. Wang, L. J. Flynn and M. Fortelius. New York, Columbia Univ. Press: 583-594. https://docs.google.com/file/d/0B_V8rxzpembKMHQ4NEhadXA3bDg
Bibi, F. (2013). "A multi-calibrated mitochondrial phylogeny of extant Bovidae (Artiodactyla, Ruminantia) and the importance of the fossil record to systematics." BMC Evolutionary Biology 13: 166 www.biomedcentral.com/1471-2148/1413/1166.
Bibi, F., A. Souron, H. Bocherens, K. Uno, and J.-R. Boisserie. 2013. Ecological change in the lower Omo Valley around 2.8 Ma. Biology Letters 9. dx.doi.org/10.1098/rsbl.2012.0890
Bibi, F., Kraatz, B., Craig, N., Beech, M., Schuster, M., and Hill, A. 2012. Early evidence for complex social structure in Proboscidea from a late Miocene trackway site in the United Arab Emirates. Biology Letters 8:670-673. dx.doi.org/10.1098/rsbl.2011.1185
Bibi, F., M. Bukhsianidze, A.W. Gentry, D. Geraads, D.S. Kostopoulos, and E.S. Vrba. 2009. The fossil record and evolution of Bovidae: State of the field. Palaeontologia Electronica, 12: 10A (11pp.). palaeo-electronica.org/2009_3/169/169.pdf