Back to top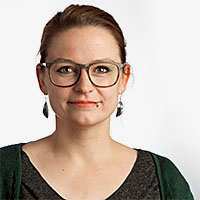 Fax:
+49 30 889140 - 8565
Museum für Naturkunde
Leibniz-Institut für Evolutions- und Biodiversitätsforschung
Invalidenstraße 43
10115 Berlin
Deutschland
Tasks
Ph.D. student in the working group Malacozoological Collection
since 2012 cooperation in the project "Biodiversity South East Asian freshwater gastropods of the genus

Brotia

in the Kaek River, central Thailand", Cooperation Project
May to October 2013 scientific assistant in the project SAW Fredie
May 2010 to May 2013 student assistant in the DFG-project "Phylogeography and phylogeny of Australian freshwater snails (Family: Thiaridae)" together with France Gimnich and under the supervision of PD Dr. Matthias Glaubrecht
February to November 2012 Master thesis "Evolutionary systematics of two species in the freshwater gastropod

Sermyla

(Cerithioidea, Thiaridae): Reconciling morphology and molecular genetics"
Research
Forschungsreisen
November to December 2012 - Kaek River, Phitsanulok Provinz, Thailand. Sampling of freshwater gastropods of the genus Brotia (Cerithioidea, Pachychilidae).

March 2012 - Workshop and sampling trip at the Silpakorn University, Nakhon Pathom, Thailand. Principle and Practice of Biosystematics and Biodiversity Using Freshwater Molluscs as a Model

September to October 2011 - Northerm Territory and Queensland, Australia. Sampling of freshwater gastropods of the family Thiaride (Cerithioidea).
Publications (Selection)
Maaß, N & Glaubrecht, M 2012. Comparing the reproductive biology of three "marsupial", eu-viviparous gastropods (Cerithioidea, Thiaridae) from drainages of Australia´s monsoonal north. Zoosystematics and Evolution, Vol. 88(2): 293-315.