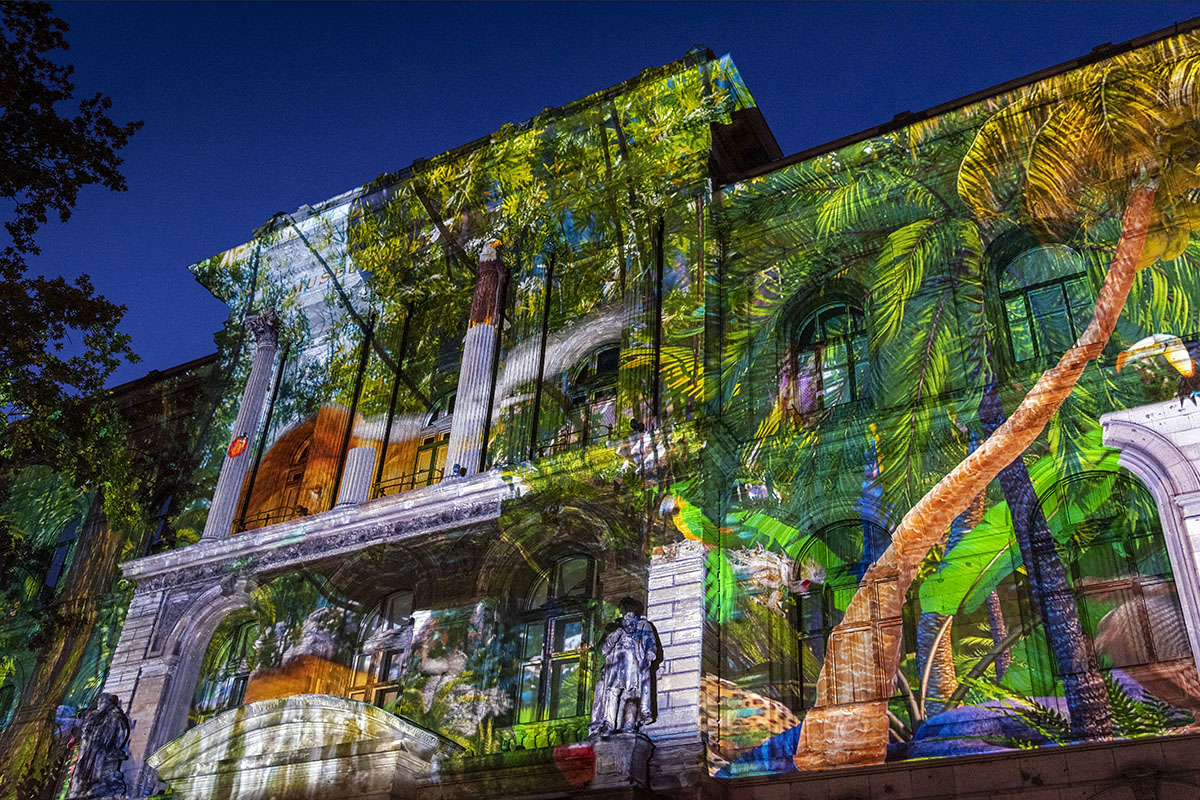 Back to top
Press release, 04.09.2020
Giving broad sections of the population an insight into scientific topics is both the aim and the motto of the cooperation projects between the Museum für Naturkunde Berlin and the Berliner Sparkasse. In addition to the new podcast, this includes participation in the Festival of Lights. During the festival, the façade will present itself in a colorful and diverse way, because (bio-)diversity is this year's main topic of the moving façade projection and at the same time one of the research focuses of the museum, which is committed TO NATURE. How the diversity of species on our planet will be in a few decades is the topic of the lecture series "Science at the Dinosaur Hall" during the festival.
During the 16th Festival of Lights from September 11th to 20th, the Museum für Naturkunde Berlin will for the second time be the scene of an enchanting video installation, which can be seen from 8 PM to midnight. The focus of the one-minute projection is the colorful diversity of species on earth. This year, many different animals populate the facade of the museum in their natural habitat. They refer to the impressive Biodiversity Wall in the exhibition, in which the current diversity of life forms is shown using the example of around 3,000 animal objects. Representatives of the approximately one million species of animals and plants discovered by researchers so far grow and bloom, creep and crawl across the museum façade and give colorful macaws a stage for their flight show. The fact that more of our biodiversity is discovered every day and later made available digitally – this is also something that the scientists at the Museum of Natural History in the Center for Integrative Biodiversity Discovery are working tirelessly on.
How biodiversity will develop on our planet in the coming decades is one topic of the lecture series "Science at the Dinosaur Hall" on September 18th.
The video installation will be presented by the Museum of Natural History together with the Berliner Sparkasse.