As part of For Nature digital we are expanding our digital offerings. On this page you find content that is particularly aimed at families and children, from dinosaur masks for to Naturblick, our smartphone app for discoveries in the city nature, as well as digital guided tours.
Digital guided tours
In our Guided Tours you can join tours through both exhibition and collection of the museum from home for the first time. The digital tours make knowledge of our research collection accessible online. Accompany our guides on YouTube on a research trip through the exhibition, but also, for example, to the historic bird hall or our mammals collection. More Guided Tours in English will follow.
YouTube playlist Guided Tours in English
YouTube series #Wissenswert (in German)
What do pangolins have to do with the corona virus? What can you do yourself to support the bees in the city? You're even invited to a journey of discovery with pen and paper! In #Wissenswert, our guides bridged the time when there were no guided tours with informative home office videos – always related to the collection and research at #mfnberlin (videos in German).
Materials for handicrafts and coloring
Some of our materials that are explicitly made for children are also available digitally. You can download and customize the following masks – most of them inspired by exhibits in our exhibition. Please note that the cut out masks are sharp-edged on normal printer paper.
Download: Wild life masks • Dinosaur masks • Elephant masks
Further downloads: Color butterflies • Craft sheet Coral Reef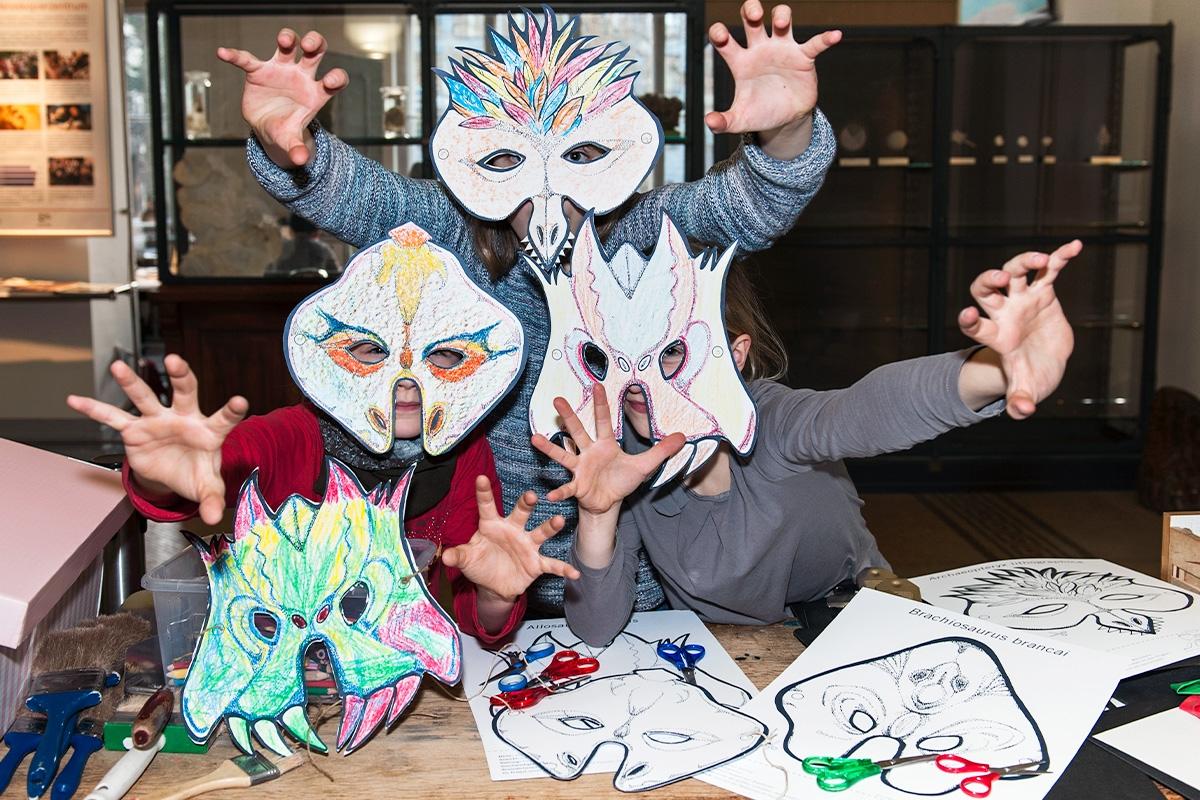 City nature discoveries (in German)
Which bird is chirping in the tree? And while you're at it: Which tree is this bird chirping on? With our Naturblick app ('nature view' in English) you determine the species of the city nature. You can use image recognition to find out which plant is in front of you and can even record bird sounds, have them assigned by the app and create your own bird sound collection. This is also possible from your own balcony or garden.
Download at Play Store (Android) • Apple Store (iOs) 
Digital research trip with Google Arts & Culture
Also online, you can marvel at our Biodiversity Wall with around 3,000 prepared animal species, discover our research wet collection and stretch your neck until you – at the very top – admire the head of the world's largest mounted dinosaur skeleton. With Google Arts & Culture you visit the Museum für Naturkunde like you do with Google Street View. In addition, Giraffatitan and some preparations from the biodiversity wall come to life via virtual reality.
Explore Museum für Naturkunde Berlin via Google Street View (as of 2016)