With the implementation of the Zukunftsplan, the collection of the Museum für Naturkunde Berlin with more than 30 million objects is being sustainably opened up as an international research infrastructure. The goal is to build an open, digital-analogue and internationally available collection infrastructure. The Data Portal is part of this process and promotes future knowledge-based debates about the future of society and the relationship between humans and nature. The Data Portal made accessible is currently a beta version that will continuously be developed and filled with further entries.
At the time of its first release in early 2021, the Data Portal already contains over 40,000 entries from three different sub-collections, which are now publicly accessible and usable for everyone interested.
In addition to audio data from the Animal Sound Archive, the Data Portal can currently also be searched for images from the museum's insect collection and mineralogical-petrographical collection. The associated information in the form of scientific data makes it possible to re-use it for research purposes.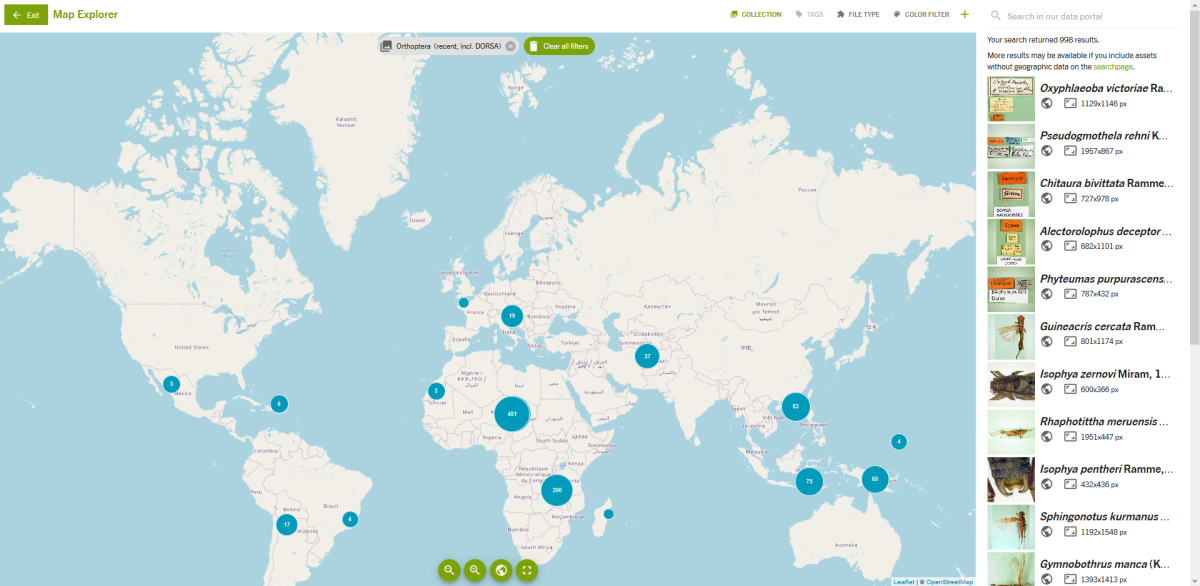 The current functionalities include:
    Media download
    Search for geographical information, displayed on a map (Map Explorer)
    Search by colour spectrum
    Search for specific data fields, e.g. taxonomic names
    Search by media type and collection
    Audio player for MfN podcasts and sounds, e.g. compositions from the Your Ocean Sound hackathon
One of the highlights of the Data Portal is the colour filter function. It allows a search for images that contain the chosen colour as one of the dominant colours. With the so-called Werner's colours (named after the German mineralogist Abraham Gottlob Werner), the user can even use the same colours that Charles Darwin already used for his scientific observations.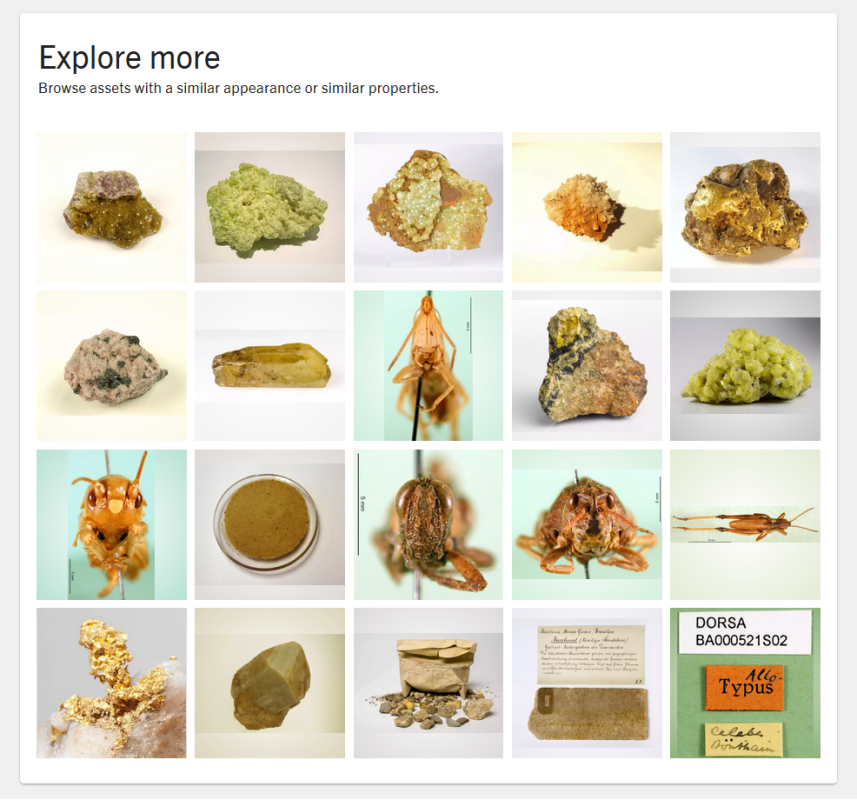 For a free exploration of the content, the Data Portal has a similarity search function to display visually similar objects. Thus, for almost every item, the research portal suggests further exciting options encouraging users to explore more content.
Information and media can be retrieved automatically via a programming interface. This provides a powerful way of integrating this information into your own interactive applications. Thanks to the programming interface, our data can also be easily used, for example for artificial intelligence applications, thus opening up new innovative fields of activity.
The entries of the Data Portal will be continually expanded and enriched with new media from the museum's collection development and digitisation. In addition, the functionalities of the portal itself are constantly being further developed and improved.
It is therefore worth taking a look at the Data Portal again and again in the future.