The Museum für Naturkunde Berlin is one of the eight research museums of the Leibniz Association. Their collections total far more than 100 million objects. These form the basis for research on the history of the earth and biodiversity, cultural and technical history and the preservation of scientific and cultural heritage. With their research-based exhibitions at twelve locations in Germany, they reach millions of people every year. In doing so, they make an important contribution to the transfer of knowledge.
 
A world in motion
Globalization, migration and mobility not only set people, objects and knowledge in motion, but also the research museums themselves: How do museums react to current social transformations and challenges such as Covid-19? How do museums enable participation in research processes and co-production of knowledge? The second action plan of the Leibniz research museums is entitled "A world in motion". The eight research museums open their doors in many different formats - especially virtual ones. You can read more on the website of the Leibniz Association.
The Museum für Naturkunde Berlin is dedicated to the effects and possibilities of a "world in motion" in workshops, lectures and discussion forums. Existing cooperations in education and conservation research will be further expanded and international networking will be strengthened.
 
Dialogue with society
Events and workshops invite visitors to explore the museum's archives, socially relevant research and current museum topics:
Transcription Workshop
The Transcription Workshop invites to actively contribute to the research work of the museum. Every two weeks historical documents are translated into modern formats in the advanced workshop. Courses for beginners to learn how to read the handwritings Kurrent and Sütterlin are offered regularly. On 28 and 29 October 2021 the Workshop "Participatory Transcription Projects in Museums, Archives, Libraries - A Practical Exchange of Experience" will lay the foundation for further cooperation between transcription projects.
Live Talks with scientists
Science Communication Café
Every first Sunday of the month, scientists offer exciting insights into their work at the Science Communication Café.
Museum Talks
#Wild Walk
With #WildWalk, the Museum für Naturkunde Berlin is launching a pop-up exhibition project to temporarily breathe new life into vacant storefronts in the city. Together against the lockdown blues, together revitalising urban space, together reaching people.
Tools of knowledge transfer
The Museum tests and researches innovative formats of science communication in the 'Experimental Field', is building a competence center for Citizen Science and a Science Policy Lab to strengthen the exchange between science, society and politics. In cooperation with the other research museums, education and visitor research will be intensified.
The 'Experimental Field' for Participation and Open Science
Opening up science: Interested parties can get into direct contact with scientists - whether during coffee chats or live talks. Read more about the 'Experimental Field' here.
The Biodiversity Policy Lab
The Biodiversity Policy Lab analyzes biodiversity policy and initiates public debates on it. The aim is to make the diversity of species, genes and ecosystems a public matter, that societies must ensure that they are preserved and used in the long term.
Development of a competence center for Citizen Science
All people can do research! And so it is planned to strengthen Citizen Science as an approach for research with society in all eight research museums. Workshops and events with the participation and involvement of the public are planned for this purpose.
Education and visitor research
Together with the research museums and institutes of educational research, Museum für Naturkunde is developing educational formats and shared projects of education and visitor research in the education network "Bildungsnetzwerk Forschungsmuseen (BiFo)". In addition, visitor studies are taking place in the museum and online.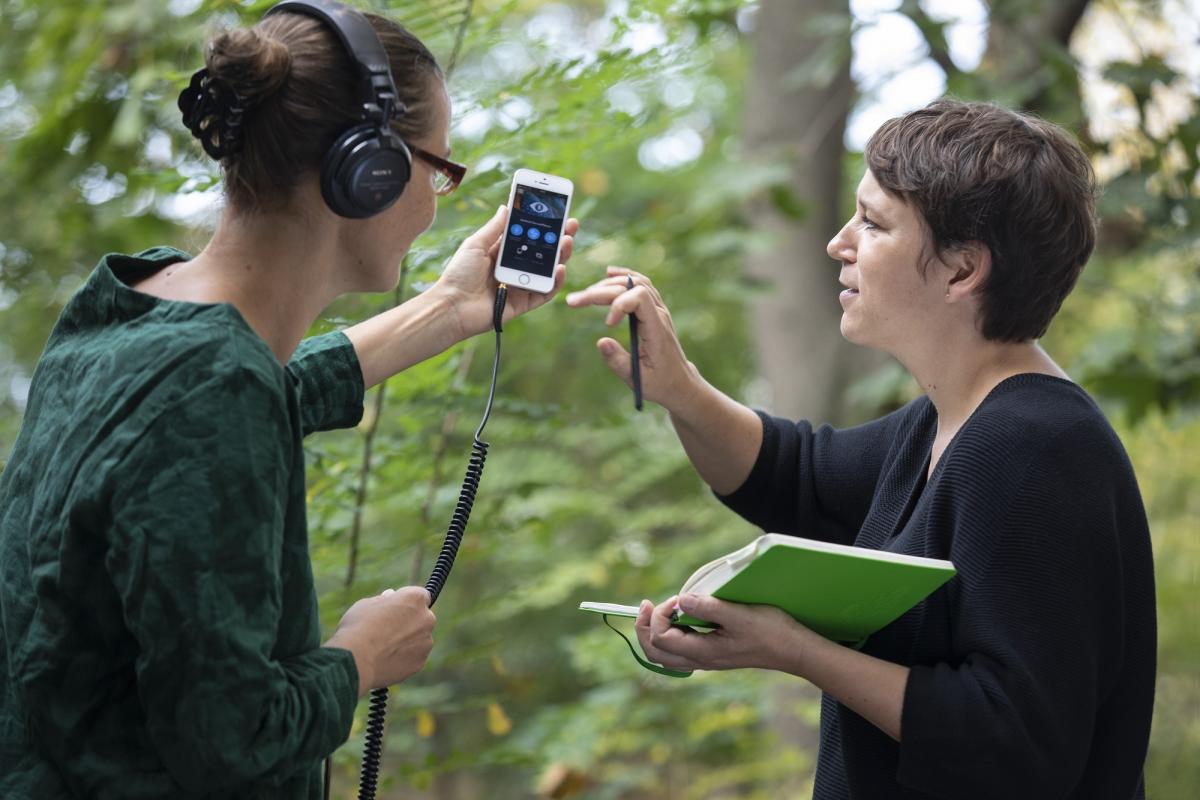 Citizen Science Forschung zu Tierstimmen mit der App "Naturblick"
 
Internationalization
International cooperation is being expanded in the areas of conservation and provenance research. In addition, the second Global Summit of Research Museums will take place in 2022.
Network Conservation Research
The Network Conservation Research is promoting international exchange about conservation and collection management.
Thinking and learning space: Guidelines for dealing with natural history collections from colonial contexts
The Museum sheds light on the political, legal and ethical aspects of natural history collections in a broad discussion. Collecting and researching took place in colonial structures over centuries. Museums developed into archives of colonial materials and knowledge, in which the world was ordered and made manageable according to Western taxonomies. Following on from current discussions in science, society and politics, the focus of the project is on dealing with the colonial history of institutions and collections in the Museum. The aim is to develop recommendations for dealing with natural history objects from colonial contexts, which, among other things, should be included in a guideline.
Global Summit of Research Museums II at the Deutsches Museum
Together with all research museums and the Smithsonian Institution, the Global Summit of Research Museums (GSRM) will be continued with a focus on "Objects in Motion". The GSRM is aimed at leaders from various museum sectors worldwide and will take place in the fall 2022 at the Deutsches Museum in Munich.